Weiße Rosen: Die 15 schönsten Rosensorten in unschuldigem Weiß
Die weiße Rose ist wohl eine der symbolträchtigsten Blumen. Wir haben für Sie die schönsten Rosensorten von Schneeweiß bis Cremefarben zusammengesucht.
Edel und wunderschön sehen beinahe alle Rosen (Rosa) aus – die Krönung von Anmut und Eleganz stellen jedoch wohl die weißen Rosensorten dar: Mit ihrer zarten Farbgebung von leuchtendem Weiß bis zu vornehmen Cremetönen bringen die Blumen jeden Garten zum Strahlen und sind auch als symbolträchtiger Blumengruß äußerst beliebt. Doch haben Sie sich schon einmal gefragt, welche Rosensorten die schönsten weißen Blüten tragen? In unserem Beitrag verraten wir Ihnen, welche weißen Rosen definitiv einen Platz im Garten verdient haben.
Rosen begeistern mit ihrer anmutigen Schönheit seit jeher die Menschen – kein Wunder, dass man bereits in der Antike anfing, die schöne Blume zu kultivieren. Doch nicht nur die roten Rosensorten wurden in Gärten herangezogen, auch weiße Rosen zogen von Anfang an die Blicke auf sich. So fanden bereits die Römer Gefallen an der strahlenden Alba-Rose (Rosa alba) und auch heute erfreuen sich die weißen Schönheiten höchster Beliebtheit. Besonders die Eleganz der hellen Blüten macht sie zu einem tollen Blickfang, der jedes Gärtnerherz höher schlagen lässt.
Symbolische Bedeutung von weißen Rosen
Weiße Rosen sind ein beliebter Schmuck für Hochzeiten. Diese Ehre haben die schönen Blumen aber nicht nur ihrer Optik, sondern auch ihrem symbolischen Wert zu verdanken: Seit langem gilt die weiße Rose als Symbol der Liebe, Treue und Unschuld. Im Mittelalter war sie sogar als Zeichen der Jungfrau Maria bekannt und wurde deshalb mit ihren Tugenden in Verbindung gebracht. Häufig findet man die weiße Rose auch als Friedenszeichen. Jedoch steckt noch eine weitere Symbolik hinter der schönen Pflanze – sie kann auch Abschied oder gar Tod repräsentieren. Deshalb sollte man sie niemals am Krankenbett verschenken, sonst wird aus einem gut gemeinten Präsent schnell ein peinliches Fettnäpfchen.
Bio-Rosendünger 1,5 kg
Für prachtvolle & üppige Rosen in Topf und Beet
Beugt typischen Krankheiten vor & sorgt für gesundes Wachstum
Tierfreier Bio-Langzeitdünger - unbedenklich für Haus- & Gartentiere
Weiße Rosen: Die 15 schönsten Sorten
15. Strauchrose 'Schneewittchen®'
Ein echter Klassiker im Garten ist die Strauchrose 'Schneewittchen®': Bereits seit den 50er-Jahren ist die weiße Schönheit in unseren Gärten zu Hause und hat trotzdem nichts von ihrer Anziehungskraft verloren. Als unermüdlicher Dauerblüher mit zauberhaften reinweißen Blüten, die in beinahe unverschämter Anzahl erscheinen, erfreut uns die Sorte bis zum ersten Frost mit ihrer tollen Blüte – damit ist sie die ideale Wahl zur Gestaltung verträumter Gartenecken.
14. Kletterrose 'Penny Lane®'
Mit ihrem sattgrünen, gesunden Blattwerk, das sich elegant um Rosenbögen und Pergolen schlängelt, ist die Kletterrose 'Penny Lane®' bereits ein beeindruckender Anblick. Zeigt die Rose dann noch ihre einzigartigen Blüten, ist es um viele Rosenliebhaber geschehen: Champagnerfarbene, leicht gerüschte Blütenblätter bedecken die Pflanze bis in den Herbst hinein und machen sie zu einem einzigartigen Hingucker.
13. Edelrose 'Annapurna®'
Weiße Edelrosen finden man recht selten – besonders wenn sie ein so strahlendes Weiß wie die 'Annapurna®' vorweisen. Die zeitlose Eleganz der romantischen Rose macht sie zu einem beliebten Gartengast, an dem man lange Freude hat. Doch die wahre Sensation ist der intensive Duft der Rose: Das typische Rosenaroma mischt sich bei der Pflanze mit einem Hauch von Honig und Zitrus und eröffnet so der Nase ganz neue Geruchswelten.
12. Englische Rose 'Winchester Cathedral®'
Direkt aus England kommt wahrhaft edler Besuch in unseren Garten und erfreut uns mit seinem einzigartigen Charme: Die 'Winchester Cathedral®' überzeugt mit ihrer strahlenden Schönheit und dem pflegeleichten Wesen auf voller Linie. Optisch besticht die Rose vor allem mit dem Kontrast zwischen ihren großen, weißen Blüten, den rosa Knospen und dem dunkelgrün gefärbten Laub. Doch auch ihr intensiver Duft nach Milch und Mandeln macht die Sorte zu einem gerne gesehenen Gast.
11. Beetrose 'Garden of Roses®'
Sie möchten Ihren Garten mit weißen Rosen aufhübschen, haben aber kaum Platz? Kein Problem – die Beetrose 'Garden of Roses®' lässt sich auch problemlos im Kübel kultivieren und brilliert trotzdem mit einem beeindruckenden Äußeren. Besonders ihre nostalgischen Blüten, die einen hinreißenden Farbverlauf von Cremefarben oder Pastelrosa zu Weiß zeigen, zeichnen den Charme der Pflanze aus. Zusätzlich kann sich die Sorte mit einer hervorragenden Gesundheit brüsten, weshalb sie auch das ADR-Prädikat trägt.
10. Ramblerrose 'Guirlande d'Amour®'
Sie ist wohl eine der schönsten und auch romantischsten Ramblerrosen überhaupt: Die 'Guirlande d'Amour®' verzaubert mit ihrer üppigen Blüte und ihrem eindrucksvollen Duft beinahe jeden Gärtner, der auf sie trifft. Vor allem ihre locker gefüllten reinweißen Blüten, die sich geschmackvoll vom dunkelgrünen Laub absetzen, ziehen alle Blicke auf sich. Doch auch die Tatsache, dass es sich um eine ADR-Rose handelt, mit der selbst Anfänger viel Freude haben können, machen diese Sorte so beliebt.
9. Strauchrose 'Artemis®'
Mit ihren tollen, ballförmigen Blüten und ihrem aufregenden Duft nach Anis erfreut die 'Artemis®' jeden Rosenliebhaber. Der nostalgische Charme der cremeweißen Rose mit den prallgefüllten Blüten sorgt für wahre Lichtblicke im Beet und setzt sowohl als Solitärpflanze als auch als Hecke beeindruckende Akzente. Dank ihrer guten Blattgesundheit und ihrer großen Robustheit eignet sich die 'Artemis®' auch gut für Anfänger.
8. Ramblerrose 'Bobby James®'
Wer nicht genug von weißen Blumen bekommen kann, sollte auf keinen Fall auf die 'Bobby James®' verzichten, denn kaum eine andere Rose trägt so eine Fülle an Blüten. Zusätzlich betört die einmalblühende Sorte mit einem herrlich intensiven Geruch unsere Nasen. Doch auch nach der Blüte muss man nicht traurig sein: Die 'Bobby James®' ist mit ihren gesunden, graugrünen Blättern nicht nur außerordentlich attraktiv, im Herbst bildet sie auch noch wunderschöne, rote Hagebutten aus.
7. Beetrose 'Pastella®'
Zarte Pastelltöne sind das Markenzeichen der bezaubernden 'Pastella®'. Mit ihren nostalgisch gefüllten, am Rand manchmal zartrosa gefärbten Blüten scheint die Rose direkt aus einem Märchen entsprungen zu sein und lässt sich perfekt mit anderen Blumen kombinieren. Ihr leichter Duft und ihr Blütenreichtum verstärken die Schönheit der Pflanze zusätzlich. Aber auch ihre gute Blattgesundheit zeichnet die 'Pastella®' aus, sodass sie das Prädikat ADR-Rose tragen darf.
6. Edelrose 'Madame Anisette®'
Wenn es um den Duft geht, kann keine Rose der 'Madame Anisette®' das Wasser reichen: Ihr intensives Rosenaroma, dass an eine Mischung aus Liebstöckel, Myrrhe und Anis erinnert, verzaubert jede Nase und hat der Pflanze schon einige Preise beschert. Doch auch ihr dichtgefülltes, cremefarbendes Blütenkleid ist eine wahre Pracht. Als wäre das nicht genug, brilliert die hübsche Dame noch mit einer (für duftende Edelrosen ungewöhnlich) guten Blattgesundheit und gilt als sehr robust.
5. Beetrose 'Lions-Rose®'
Herrlich nostalgisch, aber bestimmt nicht altbacken kommt die Beetrose 'Lions-Rose®' daher: Mit ihren großen, gefüllten Blüten und dem dezenten Duft ist die Pflanze ein echtes Prachtstück im Garten. Besonders ihre cremeweißen Blüten, die beim Aufblühen einen zarten Rosa-Hauch annehmen können und im Kontrast zu den dunkelgrünen Blättern stehen, machen die Eleganz der Pflanze aus. Doch die öfterblühende Rose überzeugt auch durch ihre Robustheit und eine gute Blattgesundheit – nicht umsonst trägt Sie das ADR-Prädikat.
4. Edelrose 'Schloss Ippenburg®'
Eine Schönheit, wie sie im Buche steht – der 'Schloss Ippenburg®' kann kaum eine andere Rose das Wasser reichen. Mit ihren zarten, starkgefüllten Blüten und dem intensiven Duft ist die Edelrose eine wahre Kostbarkeit, die man in seinem Garten nicht missen möchte. Speziell ihr lachsfarbener Farbton, der nach außen ins Cremefarbene oder Weiße changiert, macht die Pflanze zu einem besonders edlen Hingucker. Doch auch die gute Blattgesundheit der ADR-Rose sorgt dafür, dass die Sorte in keinem Garten fehlen sollte.
3. Beetrose 'Aspirin®'
Gegen Kopfschmerzen hilft die schöne 'Aspirin®' leider nicht, doch sie eignet sich perfekt, um den Garten in einen Ruhepol für die Seele zu verwandeln. Als ADR-Rose beeindruckt die Pflanze mit einer sehr hohen Blattgesundheit und gilt als äußerst robust, sodass sie sogar im Kübel ohne Probleme wächst.
Zusätzlich lässt sich die 'Aspirin®' auch optisch nicht lumpen: Strahlend weiße, halbgefüllte Blüten und gefiederte Blätter machen die Pflanze zu einem echten Blickfang. Bei kühleren Temperaturen können die Blüten zusätzliches ein romantisches Rosa annehmen. Den ungewöhnlichen Namen hat die Rose übrigens nicht, weil sie mit ihrer Farbe an eine Kopfschmerztablette erinnert, sondern anlässlich des 100. Geburtstags des berühmten Wirkstoffes.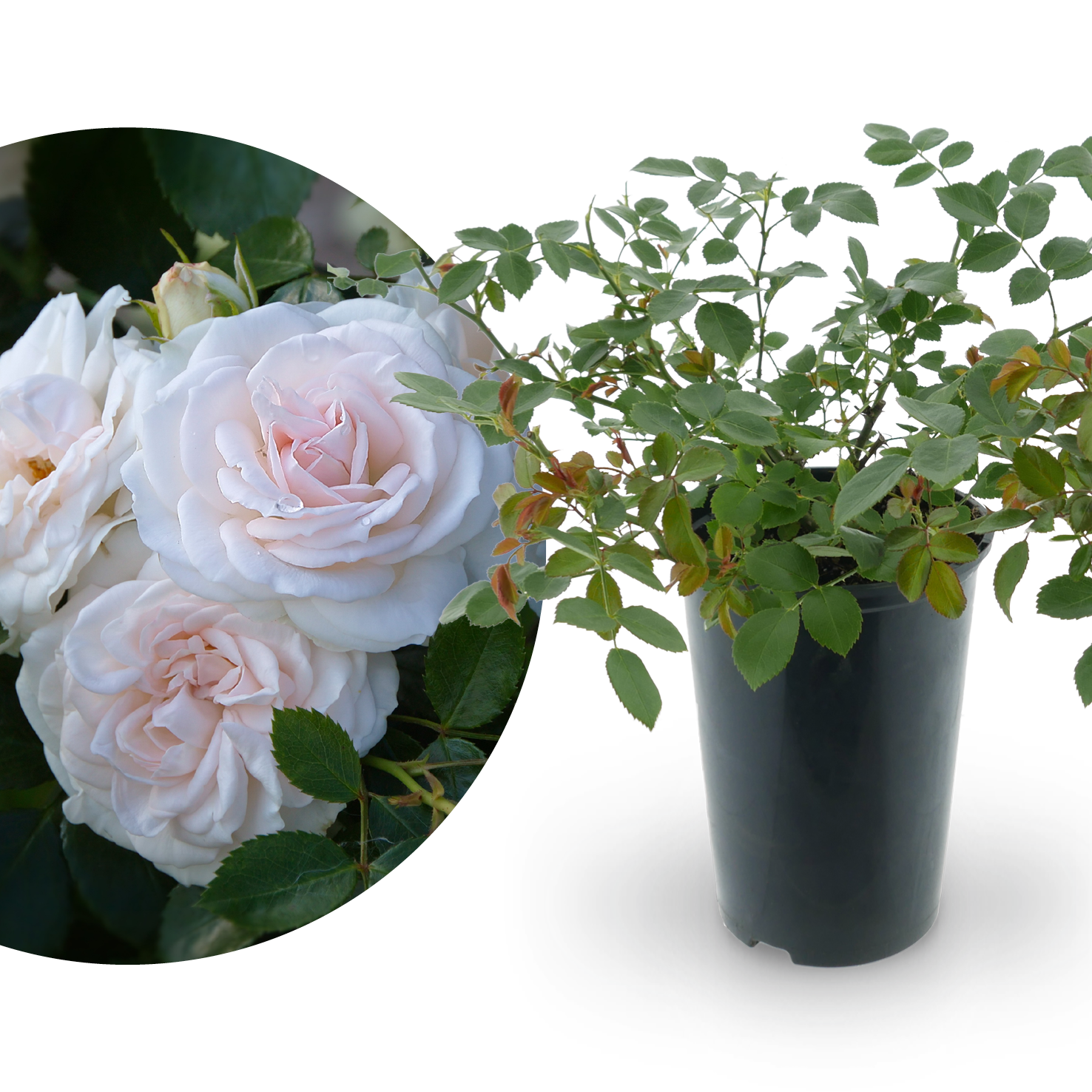 Beetrose 'Aspirin'® Weiß
Strahlend weiße Einzelblüten von Juni bis September
Hervorragende Gesundheit – wenig anfällig gegenüber Krankheiten
Kompakter Blickfang für Beet & Topf oder zur Flächenbepflanzung
2. Bodendeckerrose 'Innocencia®'
Schön, robust, blühwillig und auch noch gesund – es ist absolut nicht verwunderlich, dass die 'Innocencia®' eine Rosenschau nach der anderen gewinnt und auch das Prädikat als ADR-Rose souverän bekommen hat. Die nur etwa 40 bis 60 Zentimeter hohe Rose lässt mit ihrem leichten Duft, den reinweißen Blüten und gelben Staubgefäße das Herz eines jeden Rosenliebhabers höher schlagen. Wegen ihrer robusten Art lässt sich die 'Innocencia®' auch wunderbar als Bodendecker einsetzen und ist deshalb auch in öffentlichen Grünanlagen häufig zu finden.
1. Beetrose 'Sirius®'
Als ein echter Alleskönner im Garten zeigt sich die Beetrose 'Sirius®', weshalb es beinahe unmöglich scheint, all ihre Vorzüge aufzuführen. So überzeugt die ADR-Rose nicht nur mit einer äußerst guten Blattgesundheit, sondern ist auch noch winterhart und sehr robust. Auch die Pflege der hübschen Rose ist nicht aufwendig, da sie sich selbst reinigt und damit nicht regelmäßig ausgelichtet werden muss. Der Höhepunkt sind jedoch ihre tollen Blüten: Am Rand Cremefarben oder Weiß erstrahlen die Blumen in der Mitte in einem zarten Apricot und treten zahlreich an der Pflanze auf. Unterstrichen wird die Schönheit der Sorte noch einmal von ihrem feinem Duft.
Noch nichts Passendes gefunden? Keine Sorge – hier finden Sie weitere, wunderschöne Rosensorten.