Sternhyazinthe: Pflanzen, Blütezeit & Giftigkeit
Die hübschen Schneeglanz-Blumen entfalten ihre Blütenpracht bereits ab Februar. Wir stellen die Zwiebelpflanze vor und geben Tipps zu Sortenwahl und Pflanzen von Sternhyazinthen.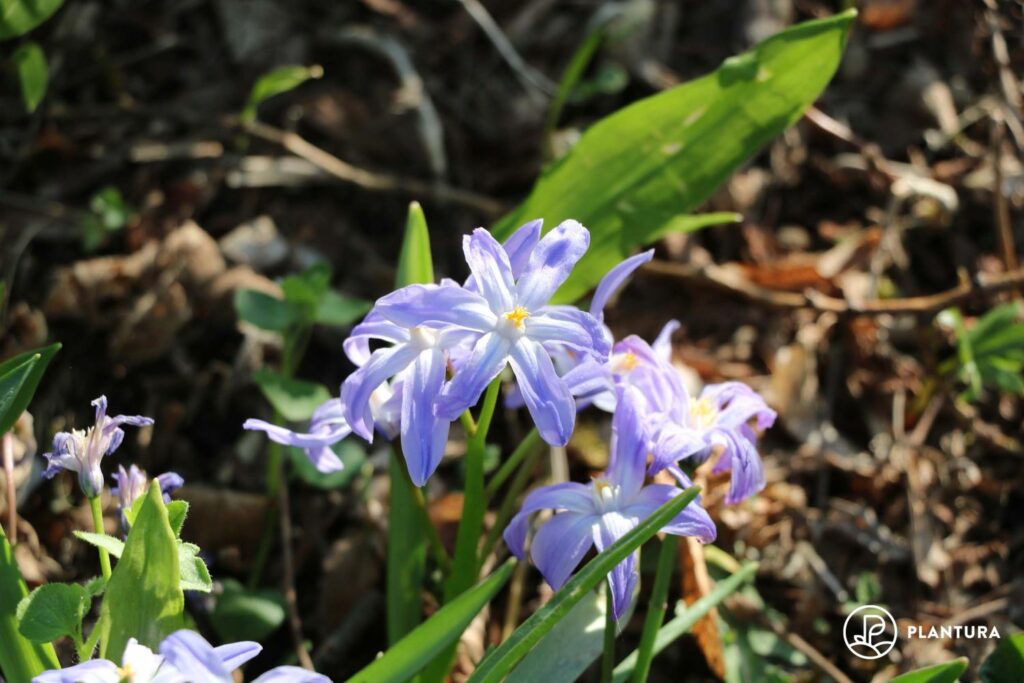 Die Sternhyazinthe (Scilla, Syn. Chionodoxa) ist eine vermehrungsfreudige, zierlich blühende Zwiebelpflanze. Sie gehört zu den Frühblühern. Hier erfahren Sie alles zu den Schneeglanz-Arten, der Pflanzung und Pflege.
Schneeglanz: Blütezeit und Eigenschaften
Sternhyazinthen gehörten zur eigenen Art Chionodoxa innerhalb der Unterfamilie Scilloideae in der Familie der Spargelgewächse (Asparagaceae). Mittlerweile werden sie den Blausternen (Scilla) zugeordnet, die alte Artbezeichnung ist aber noch am gängigsten. Die Arten stammen aus dem Mittelmeerraum von Griechenland über Zypern bis in die Türkei und wachsen dort in den Bergen in bis über 2000 m Höhe. Verwilderte Bestände finden sich mittlerweile ebenfalls in Mitteleuropa, Nordamerika und den gemäßigten Zonen Asiens.
Wie heißt die Sternhyazinthe noch? Die Sternhyazinthe wird auch als Schneeglanz oder Schneestolz bezeichnet. Diese Synonyme stammen aus dem Englischen, wo die Sternhyazinthe als "Glory of the Snow" bezeichnet wird. Hinter der Bezeichnung Nickende Sternhyazinthe verbirgt sich jedoch der Sibirische Blaustern (Scilla siberica).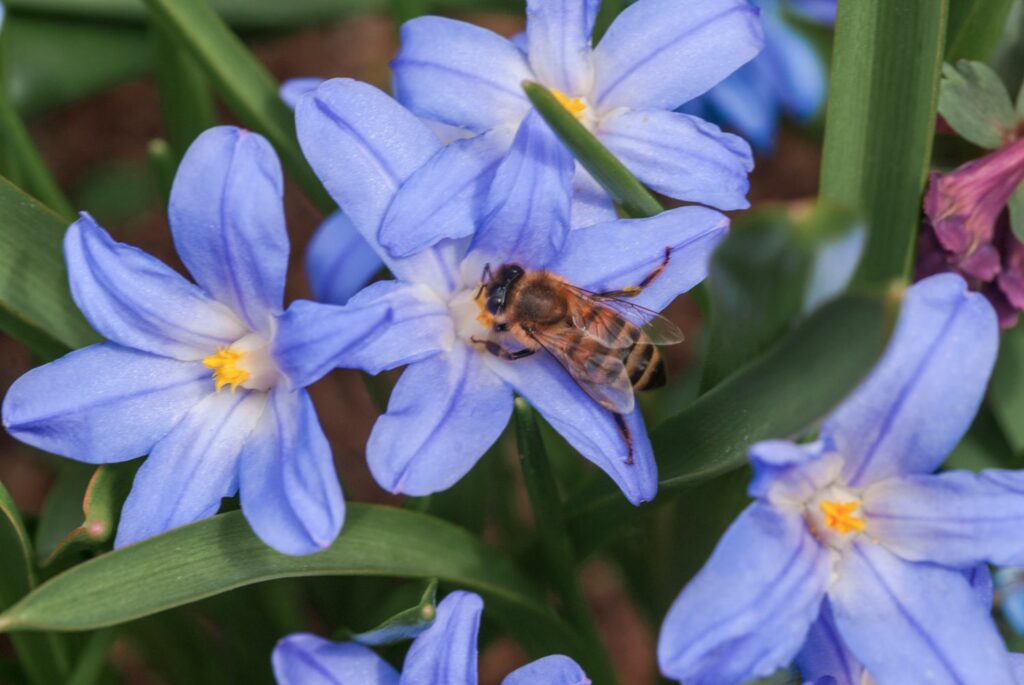 Die mehrjährigen, krautigen Blühpflanzen erreichen eine Wuchshöhe von 5 – 35 cm. Die unterirdischen runden bis eiförmigen, haselnussgroßen Zwiebeln bilden oft zahlreiche Tochterzwiebeln aus, wodurch sich die Sternhyazinthen hauptsächlich verbreiten. Sie treiben zur Zeit der Schneeschmelze aus und bilden je Zwiebel zwei lineare bis längliche Blätter aus. Die Blütezeit des Schneeglanzes liegt zwischen Februar und April. Die sternförmigen Blüten sitzen zu mehreren in lockeren Trauben zusammen an unbeblätterten, glatten Stielen. Sie bestehen aus sechs Blütenblättern, die weiß, rosa oder blau gefärbt sind.
Ist Schneeglanz bienenfreundlich? Bienen, Hummeln und andere Insekten besuchen die frühen Nahrungsquellen gern, da die Sternhyazinthen größere Mengen an Nektar und Pollen bieten.
Nach der Bestäubung bilden sich dreiteilige Kapselfrüchte mit schwarzen, kugeligen bis elliptischen Samen aus. Diese sind mit einem nährhaften Anhängsel, dem Elaiosom, versehen. Diese zucker-, fett- und eiweißreiche Verpackung des Samens lockt Ameisen an, die sich davon ernähren. Anschließend entsorgen sie die Samen auf ihrer Müllhalde außerhalb des Baus. Dort finden die Sternhyazinthen optimale Bedingungen, wie nährstoffreiche, krümelige Substrate und Schutz vor Schädlingen vor. Nach sechs bis acht Wochen der Blüte und Samenreife ziehen sich die Schneeglanz-Pflanzen in den Boden zurück, überdauern den Sommer unterirdisch und die Blätter sterben ab.
Die schönsten Schneeglanz-Sorten und -Arten
Zu den Sternhyazinthen zählen mehrere Arten. Für den Hausgarten gibt es die Gewöhnliche Sternhyazinthe (Scilla luciliae, Syn. Chionodoxa luciliae), die Dunkle Sternhyazinthe (Scilla sardensis, Syn. Chionodoxa sardensis) und die Große oder Wuchernde Sternhyazinthe (Scilla forbesii, Syn. Chionodoxa forbesii).
Die verschiedenen Sorten der Sternhyazinthen lassen sich nach Blütenfarbe, Anzahl und Wuchshöhe gut unterscheiden. Die Gewöhnliche Sternhyazinthe bildet je Blütenstand eine bis zwei Blüten aus und erreicht eine Wuchshöhe von 15 cm. Die Große Sternhyazinthe hingegen hat vier bis zwölf Blüten je Blütenstiel und wird im Schnitt bis zu 35 cm hoch. Zuletzt stellen wir die wilde Dunkle Sternhyazinthe vor.
Scilla luciliae 'Alba': Historische, weiße Schneeglanz-Sorte von 1885 mit 5 – 15 cm Wuchshöhe. Die Blütezeit liegt zwischen März und April.
Scilla forbesii 'Blue Giant': Schneeglanz bis 35 cm Wuchshöhe und himmelblauen Blüten mit weißem Zentrum.
Scilla forbesii 'Pink Giant': Zartrosa blühender Schneeglanz, bis zu 35 cm hoch. Die Blüte der attraktiven Sorte beginnt im März.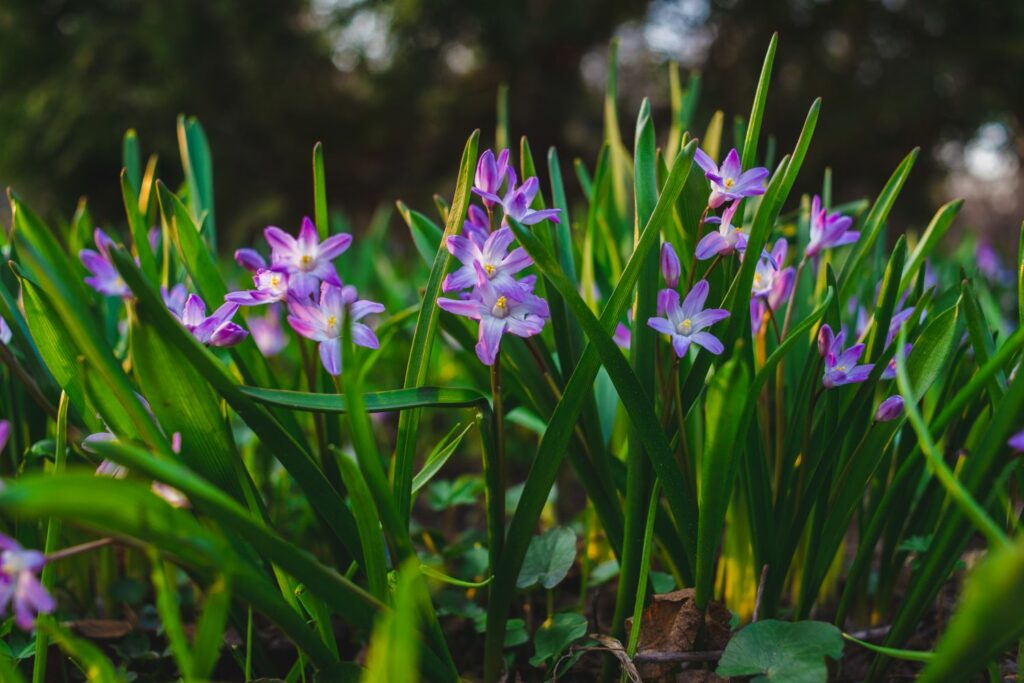 Scilla luciliae 'Rose Queen': Sternhyazinthe mit zahlreichen dunkelrosa Blüten mit hellem Zentrum. Die Chionodoxa luciliae 'Rose Queen' erreicht eine Wuchshöhe von etwa 15 cm.
Scilla luciliae 'Violet Beauty': Sternhyazinthe mit seltener violetter Blütenfarbe. Sie blüht ab Mitte März und erreicht eine Wuchshöhe von bis zu 15 cm.
Dunkle Sternhyazinthe (Scilla sardensis): Wildform der Sternhyazinthe ohne Sortenbezeichnung oder züchterischer Bearbeitung. Die 5 – 15 cm hohen Pflanzen sind zierlicher und kleiner als Scilla luciliae und bilden dafür deutlich mehr Blüten in tiefem Enzianblau aus.
Sternhyazinthe pflanzen: Standort, Zeitpunkt und Vorgehen
Sternhyazinthen bevorzugen einen humosen, lockeren Boden in warmen, sonnigen Lagen. Sie kommen mit den meisten Gartenböden problemlos zurecht, solange keine Staunässe vorherrscht. Die Pflanzung erfolgt zwischen September bis November, sodass bereits im folgenden Frühjahr die erste Blüte erscheint.
Sternhyazinthen werden in größeren Gruppen von 10 – 20 Stück gepflanzt, um einen dichten Blütenflor zu erreichen. Der Pflanzabstand zwischen den einzelnen Zwiebeln sollte 5 – 10 cm betragen. Die Pflanztiefe liegt bei etwa 10 cm. Vor der Pflanzung im Herbst kann in ärmere und schwere Böden reifer Kompost, Sand und Pflanzerde wie unsere Plantura Bio-Blumenerde eingearbeitet werden. Das torffreie, nährstoffreiche Substrat eignet sich ebenfalls ideal für Pflanzschalen und Schneeglanz im Topf. Zudem sollte vor der Pflanzung unerwünschtes Beikraut im Beet entfernt werden. Die Zwiebeln werden mit einer Handschaufel gesteckt und anschließend leicht gewässert.
Bio-Blumenerde 40 L
Ideal für alle Blühpflanzen im Beet & im Topf geeignet
Sorgt für eine üppige & langanhaltende Blütenpracht
Torffrei & klimafreundlich: CO2-reduzierte Bio-Erde hergestellt in Deutschland
Auf einen Blick: Sternhyazinthe pflanzen
Standort: Warm und sonnig, humoser lockerer Boden, keine Staunässe
Pflanzzeit: September bis November
Vorbereitung: Nährstoffarme und schwere Böden aufbessern, Beikräuter entfernen
Gruppen von 10 – 20 Zwiebeln im Abstand von jeweils 5 – 10 cm mit einer Handschaufel pflanzen
Pflanztiefe: Etwa 10 cm
Leicht wässern
Schneeglanz kombinieren: Klassischerweise werden Schneeglanz-Zwiebeln unter Gehölzen oder Hecken als Unterpflanzung gesetzt. In Kombination mit einer gelb blühenden Forsythie (Forsythia) oder Zaubernuss (Hamamelis) wirken die blauen Schneeglanz-Sorten besonders schön, weiße und pinke Varietäten dagegen unter Gehölzen wie Magnolie (Magnolia) oder Winterschneeball (Viburnum x bodnantense). Sie können ebenfalls mit Schneeglöckchen (Galanthus), Krokus (Crocus), Traubenhyazinthen (Muscari) oder frühen Narzissen (Narcissa) zusammen gepflanzt werden, sodass farbenfrohe Blütenteppiche entstehen.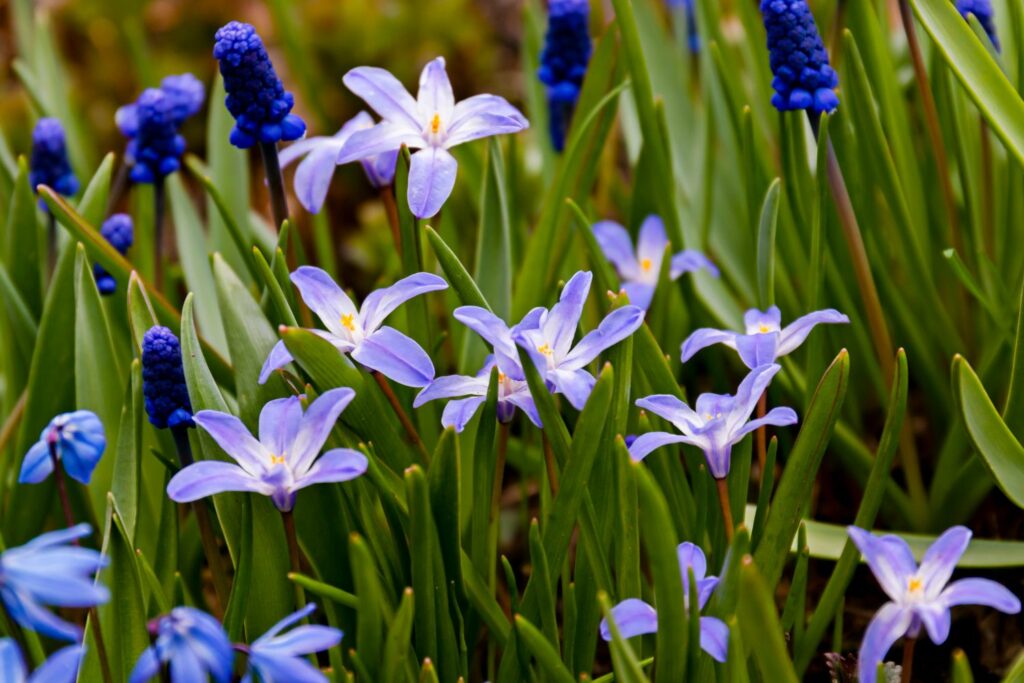 Durch Selbstaussaat und Tochterzwiebeln verbreiten sich die Sternhyazinthen im Garten, wobei sich S. luciliae weniger stark ausbreitet als S. forbesii, was sie auch für kleiner Pflanzungen in Steingärten und unter Gehölzen geeignet macht.
Die richtige Pflege
Sternhyazinthen sind pflegeleicht und müssen auch nach dem Einziehen nicht geschnitten werden. Der Nährstoffbedarf der pflegeleichten Frühblüher ist mittelhoch. Nach einigen Jahren kann daher auf leichten, sandigen Böden der Nährstoffvorrat aufgebraucht sein. Erkennbar ist ein Nährstoffmangel zuerst an verminderter Blühfreudigkeit oder vorzeitiger Gelbfärbung der Blätter. Ein vorwiegend organischer Langzeitdünger wie unser Plantura Bio-Blumendünger kann bei frostfreiem Boden ab März locker um den Bestand verteilt oder beim Umtopfen in Pflanzschalen eingebracht werden. Das tierfreie Düngergranulat setzt die enthaltenen Nährstoffe über Wochen und Monate langsam und schonend frei. Auswaschung und Überdüngung werden so effektiv verhindert.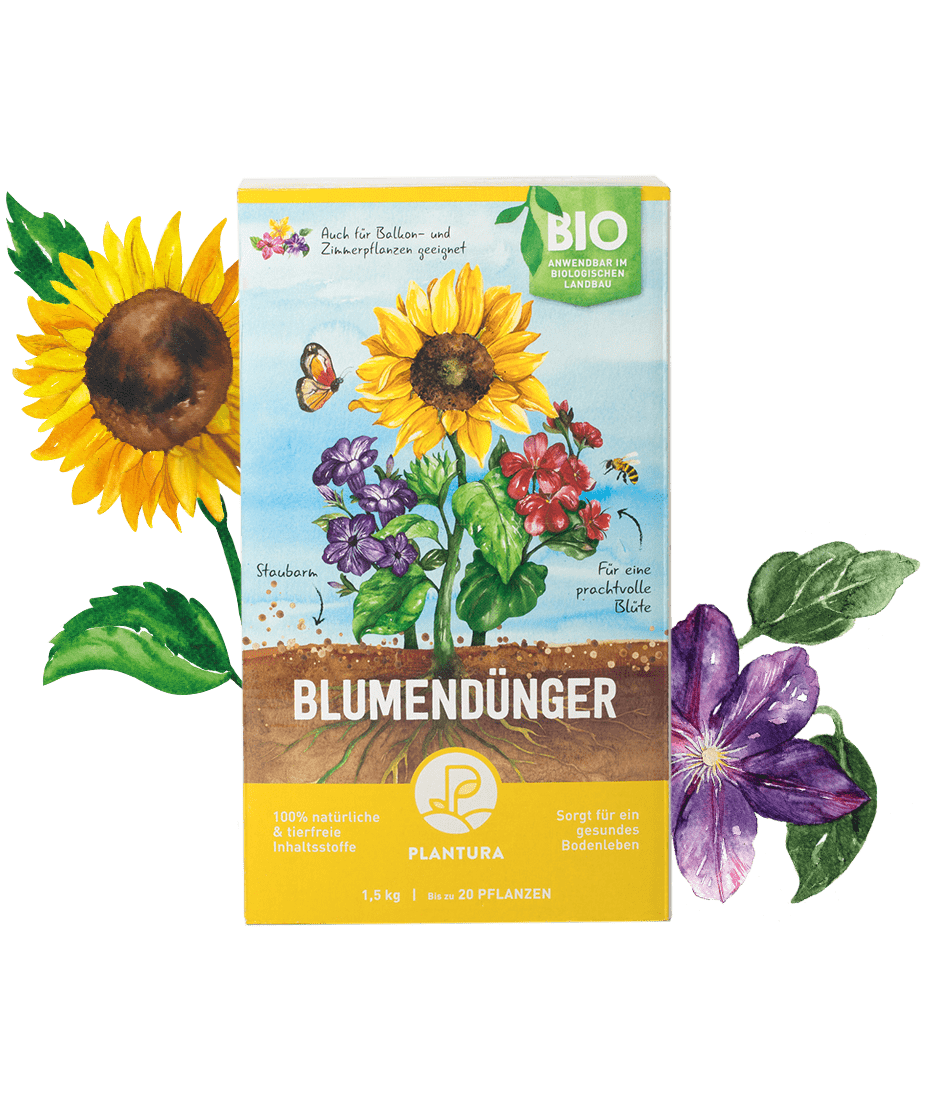 Bio-Blumendünger 1,5 kg
Ideal für Blühpflanzen im Garten & auf dem Balkon
Für gestärkte Pflanzen mit einer prachtvollen, langanhaltenden Blüte
Tierfreier Bio-Langzeitdünger - unbedenklich für Haus- & Gartentiere
Schneeglanz im Topf, das im Haus kultiviert wird, sollte regelmäßig gewässert werden. Im Sommer ziehen auch die Pflanzen in der Wohnung in ihre Zwiebel ein. Die Sternhyazinthe wird dann im Freien ausgepflanzt oder für eine erneute Blüte im kommenden Winter im Haus behalten. Ein guter Platz für die Schneeglanz-Zwiebel zur Anregung der Blütenbildung ab dem Herbst ist der Kühlschrank. Achten Sie hierbei darauf, dass die Zwiebeln nicht zu feucht stehen oder zu faulen beginnen. Nach etwa acht Wochen darf die Sternhyazinthe dann an einen hellen und kühlen Standort gestellt werden. Sie beginnt dort nach einer kleinen Wassergabe mit dem Wurzelwachstum und der Triebbildung. Nach etwa einer Woche der Gewöhnung können Sie das Pflanzgefäß dann ins warme Wohnzimmer holen.
Die Schneestolz-Zwiebeln sind winterhart bis unter – 25 °C und benötigen keinerlei Winterschutz. Sie können jahrelang auf demselben Platz bleiben. Die Vermehrung erfolgt über Tochterzwiebeln, die nach der Blüte und dem Einziehen der Pflanze Ende Juli ausgegraben und an einem passenden Standort eingesetzt oder bis zur Auspflanzung in einem trockenen, kühlen Raum aufbewahrt werden.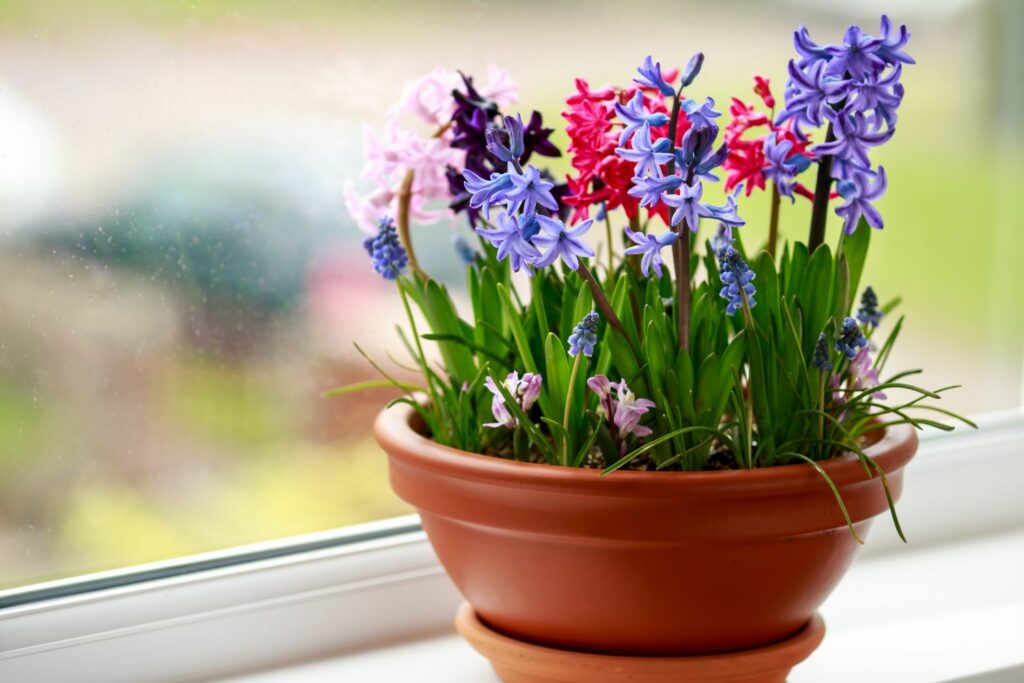 Ist Schneeglanz giftig?
Wie viele Spargelgewächse ist auch die Sternhyazinthe giftig. Der übermäßige Verzehr der Pflanzenteile kann zu Erbrechen, Übelkeit und anderen Vergiftungssymptomen führen. Die Zwiebeln sollten bis zur Pflanzung für Haustiere und Kinder unzugänglich gelagert werden. Dass Tiere im Freien an den Pflanzen fressen und sich vergiften, ist jedoch sehr unwahrscheinlich, da sie die Zwiebeln und grünen Teile natürlicherweise meiden.
Ein verwandter Frühjahrsblüher ist die Hyazinthe (Hyacinthus). Wir stellen die Zwiebelpflanze und die schönsten Arten im Steckbrief vor.